BBC News Africa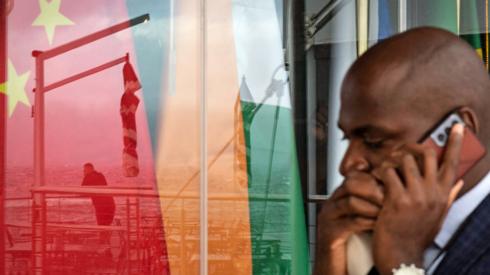 Top Stories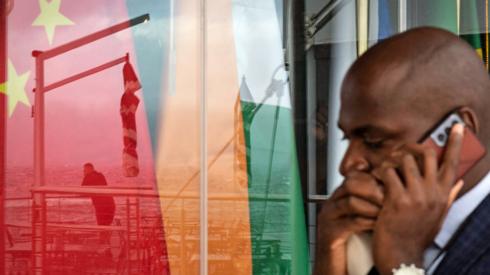 Featured Contents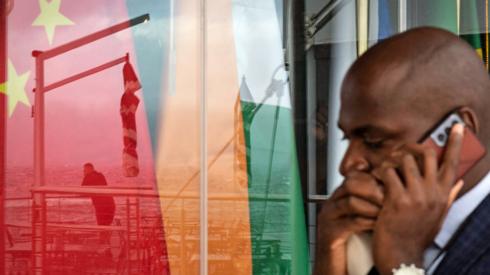 Latest Updates
By Andrew Harding

BBC News, Johannesburg

By Emily McGarvey

BBC News

Zimbabwe president welcomes Commonwealth election observers

Wedaeli Chibelushi

BBC News

President Emmerson Mnangagwa has welcomed a Commonwealth delegation, which has been tasked with observing Zimbabwe's elections, into his official residence.

The team arrived at State House as the Commonwealth continues to decide whether it should readmit Zimbabwe.

Former President Robert Mugabe pulled Zimbabwe out of the group in 2003 after the nation was suspended for human rights violations. Zimbabwe applied to rejoin after Mr Mnangagwa took office in 2018.

On Monday, Zimbabwe's information ministry posted a video of the Commonwealth's delegation leader, at State House.

Observer groups from the European Union, regional bloc the South African Development Community (SADC), and the African Union also visited Mr Mnangagwa's residence.

A Commonwealth spokesperson said last week that the group has been reassessing the nation's "adherence to Commonwealth values".

Wednesday's elections will be a "significant step in the country's democratic governance", the statement said.

Civil society groups have expressed concerns that the polls will not be free or fair.

Fine issued over revelation of alleged HIV status

Kenyan local media has reported that a man has been ordered to pay a fine of 850,000 shillings ($5,600;£4,400) after revealing a friend's alleged HIV status in a WhatsApp group.

The ruling came from the HIV and Aids Tribunal in Kenya, who said that a person's HIV status should not be disclosed to third parties without consent.

The complainant said that as a result of the message in the WhatsApp group, which had 170 members, he faced discrimination and is now undergoing counselling because of the psychological toll it had taken.

He added that the accusation had caused a rift in his marriage and denies the disclosure given in the WhatsApp group.

He has also been awarded 3,000 KE shillings in special damages.

French diplomat found dead in Cameroon

The French consulate in Cameroon's biggest city, Douala, has confirmed the death of one of its senior staff, Christian Hué.

"An investigation is under way to shed light on the causes and circumstances of this tragic event," it said in a statement.

He was the head of chancellery and rumours of his death had circulated in Cameroon in recent days.

By Paul Adams

Diplomatic correspondent

Any win for Zanu-PF in Zimbabwe would be false - Chamisa

BBC Newshour

BBC World Service

Image caption: Nelson Chamisa leads the Citizens Coalition for Change party

Zimbabwean opposition leader Nelson Chamisa has insisted that any victory by the governing Zanu-PF party in this week's general election would not be an accurate reflection of popular will.

He told the BBC that such a result in the presidential and parliamentary polls on Wednesday would not reflect the will of the people, and alleged there had already been interference by the ruling party and police harassment.

Neither Zanu-PF nor the police have responded to those claims.

Mr Chamisa, who leads the Citizens Coalition for Change (CCC), also told the BBC the grip on power held by Zanu-PF since 1980 was coming to an end, and that only a new government could revitalise the county:

Quote Message: Zimbabwe is ready for change, Zimbabwe is free at last and Zimbabwe is going to see a new leadership and new politics, fresh politics is kicking in.

Quote Message: I have no doubt in my mind that the people of Zimbabwe have said and they have decided that they want a new lease of life, and there is absolute consensus across the board, from the rural areas to urban areas, that they need change.

Quote Message: And we are the face of change, the face of hope, the face of the future." from Nelson Chamisa Leader, Citizens Coalition for Change (CCC)

You may also be interested in:

SA warns local debts hampering energy response

Gloria Aradi

BBC News, Nairobi

Image caption: South Africa's municipalities owe the state power utility firm billions of dollars

South Africa's electricity minister has raised concerns about the failure of municipalities to settle their bills with the state-owned power company, Eskom.

In a media briefing held on Sunday, Kgosientsho Ramokgopa said that municipalities owed Eskom 63.2bn rand ($3.3bn; £2.6bn).

He said this erodes "the bottom line" of Eskom and means the company is "not in a position" to respond to the country's electricity challenges.

Mr Ramokgopa added that the debt had increased by 4.7bn rand over the past year.

"We are adding more and more debt to Eskom and undermining Eskom's ability to invest their money in the generation, transmission and also distribution," said Mr Ramokgopa.

Mr Ramokgopa was appointed by President Cyril Ramaphosa as South Africa's first electricity minister in March, amid growing public discontent at the government's handling of a power crisis - which has resulted in prolonged power cuts.

South Africa's power crisis has been blamed on poor management and corruption.

Ghana's trade unions reject sending troops to Niger

Favour Nunoo

BBC News, Accra

Image caption: Ghana imports most of its onions from Niger

Ghana's biggest trade union body has warned against military intervention to reverse the coup in Niger.

Constitutional order could be re-established in Niger through diplomacy if Ecowas leaders engaged the military junta in "good faith", the Trades Union Congress (TUC) said.

"We hold a strong view that any attempt to remove the Tchiani-led military junta in Niger by force will further escalate the tension and the insecurity in the region," TUC secretary general Yaw Baah said in a statement.

The West African regional bloc Ecowas has threatened military action against the military junta which overthrew President Mohamed Bazoum last month.

The junta has proposed a three-year transition to civilian rule, but Ecowas has rejected it.

The regional bloc has also imposed sanctions on Niger.

Traders in Ghana say they are now experiencing difficulties in importing vegetables such as onions from Niger, and prices have increased.

Ghana imports about 70% of its onions from Niger. In 2021, Niger exported about $23m (£18m) worth of onions to Ghana and other West African countries.

Hundreds reportedly die during strike at Mozambique hospital

Jose Tembe

BBC News, Maputo

At least 620 people are reported to have died at Maputo Central Hospital in the past 40 days as a result of a health workers' strike.

Momzambican medics are on strike for the first time in the country's history, and doctors in particular have extended their strike for another 21 days despite receiving death threats.

During this time a minimum service will be provided to patients, doctors say, "so that our population does not suffer any more".

The striking workers say they lack medicines and vital equipment - and even have to pay out of their pockets to stock ambulances with basic gear. They say they have no choice but to strike and are calling for Health Minister Armindo Tiago to be sacked

The government, however, says it regrets that doctors have taken the decision to extend their strike despite the progress it says they'd made in meeting their demands.

Copyright: Dossier & Factos

The five Brics countries of Brazil, Russia, India, China and South Africa are holding their 15th annual summit in Johannesburg

Moroccan king pardons more than 650 prisoners

Mike Thomson

BBC World Service News

Image caption: He pardoned them on the 70th anniversary of Revolution day

King Mohammed VI of Morocco has pardoned more than 650 people convicted of various crimes, some of them terrorist-related.

The move marks the 70th anniversary of an event known as the Revolution of the King and the Nation.

The occasion is intended to highlight the country's liberation from colonialism.

Saudi guards kill hundreds of Ethiopians - HRW

Image caption: Saudi border guards are accused systematically killing Ethiopian migrants

Human Rights Watch has accused Saudi Arabian border guards of systematically killing hundreds of Ethiopian economic migrants trying to cross from war-torn Yemen.

They say at least 655 people have been killed by guards since early last year. Some were shot, others killed or maimed by explosive weapons.

The organisation spent months collecting evidence, after the UN made similar allegations last year.

Human Rights Watch has called the killings widespread and systematic, and says they could amount to crimes against humanity.

In March, the Saudi government categorically rejected any suggestion that its forces were involved in cross-border killings.

Read more on this:

Egypt briefly detains journalist after Zambia smuggling report

Mike Thomson

BBC World Service News

Copyright: Twitter/Various

Image caption: Karim Asaad works for news site Matsda2sh

The Egyptian authorities arrested then released a journalist who published articles accusing officials of involvement in smuggling cash, weapons and gold to Zambia.

The allegations by Karim Asaad followed the seizure by Zambian officials of a chartered aircraft at Lusaka airport.

It was said to be carrying more than $5m (£3.9m) in cash as well as pistols, ammunition and over 100kg of suspected gold.

Documents - purportedly from a Zambian investigation - had allegedly named several Egyptian army and police officers as suspects.

Egypt's national press union says Mr Asaad was the 24th journalist to be detained in the country.

Mr Asaad works for the news site Matsda2sh. Colleagues of Mr Asaad have accused security forces of assaulting his wife and child during his arrest on Saturday.

Somalia orders ban on TikTok and Telegram

Image caption: Internet service providers have been ordered to implement the ban by Thursday

Somalia has announced a ban on social media platforms Tiktok and Telegram and the online betting platform 1XBet.

The government says these platforms are being used by "terrorists and groups responsible for spreading immorality… to spread graphic clips, photos and mislead society".

It comes as Somalia announces an ambitious target to crush the al-Shabab militant group, which still controls large swathes of the country, within the next five months.

Internet service providers are required to implement the ban by 24 August or face unspecified legal action, the ministry of communications and technology said in a statement.

A recent conference on internet and social media security in the capital, Mogadishu, highlighted the negative impact of online platforms on young people, including "causing some of them to lose their lives".

Ecowas rejects Niger's three-year transition plan

Grant Ferrett

BBC World Service

Image caption: Ecowas has threatened military action to restore Niger's ousted president

The West African regional grouping, Ecowas, has dismissed as a negotiating tactic the announcement by Niger's coup leader that civilian rule cannot be restored for three years.

The organisation's political commissioner, Abdel-Fatau Musa, said the timetable was unacceptable.

On Saturday, Gen Abdourahamane Tchiani said a national dialogue was needed to lay the foundations for a new political order in Niger.

Ecowas has threatened military action to restore the ousted president.

Crowds have again rallied in the capital, Niamey, in support of the coup.

But correspondents say others opposed to the military takeover are afraid to public express their views.

Coup supporters rally in Niger's capital

Chris Ewokor

BBC News, Abuja

Image caption: Demonstrators expressed solidarity with the Niger coup leaders

Hundreds of coup supporters gathered in Niger's capital Niamey in a rally on Sunday to show their support for the military junta.

The demonstrators who flew both Niger and Russian flags expressed solidarity with the soldiers who overthrew their elected president, Mohamed Bazoum, last month.

It followed an announcement on Saturday by the military ruler, Gen Abdourahamane Tchiani, warning against any outside intervention.

He also announced a three-year transition plan, and said the principles for the transition would be decided within 30 days at a "dialogue" hosted by the coup leaders.

In a televised address shortly after meeting a peace delegation from the West African regional bloc, Ecowas, Gen Tchiani said the country did not want a war but warned they defend against any foreign intervention.

He denounced the Ecowas sanctions imposed on the country saying they were not aimed at finding a solution but "to bring us to our knees and humiliate us".

It was a further show of defiance after the Ecowas mediators held peace talks with the junta leaders in a last-ditch effort to reach a diplomatic solution to the political crisis.

Ecowas has said its standby force is ready to intervene if peaceful efforts to resolve the crisis are unsuccessful.

SA leader stresses neutrality ahead of Brics summit

Camilla Mills

BBC News, Johannesburg

Image caption: South Africa is hosting a meeting of the Brics nations from Tuesday

South Africa's President Cyril Ramaphosa has reiterated that his country will not be drawn into global power dynamics.

Mr Ramaphosa's televised address came ahead of the meeting of the Brics nations - Brazil, Russia, India, China and South Africa - in Johannesburg on Tuesday.

"We will not be drawn into a contest between global powers. Instead, our country strives to work with all countries for global peace and development," he said.

He noted, however, that this "does not mean that we are neutral on matters of principle and national interest".

Russia's President Vladimir Putin will participate virtually after he reached agreement with Mr Ramaphosa not to attend.

He is the target of an International Criminal Court arrest warrant following Russia's invasion of Ukraine. South Africa is required under its law to arrest him if he enters the country.

The Brics nations account for about a quarter of the global economy and interest in joining the group has surged this year.