Sudan conflict: Black market AK-47s flood Sudan's capital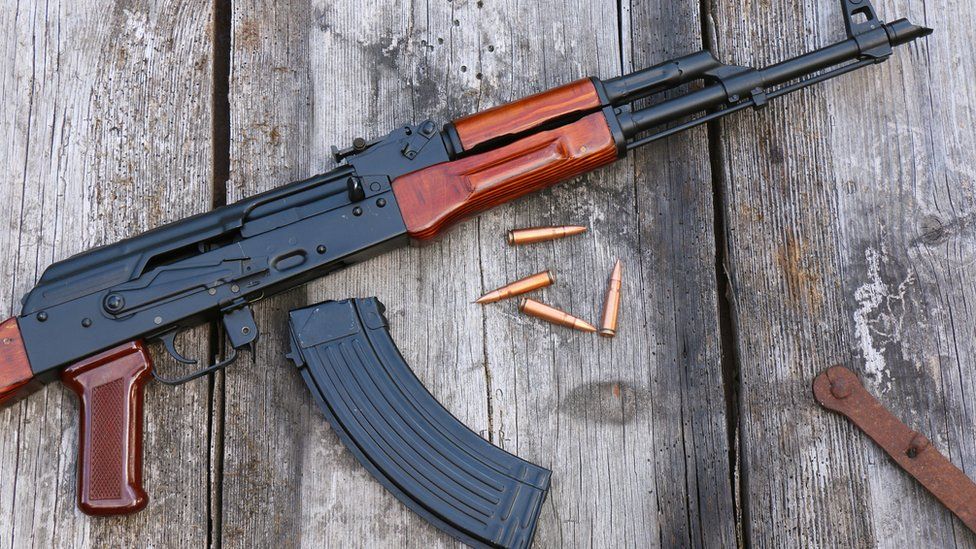 The price of an AK-47 assault rifle, one of the most-recognisable weapons of war, has fallen over the last few months by 50% on the black market in Sudan's capital, Khartoum - now costing only around $830 (£650).
A long-time arms dealer attributed the sharp drop in price to the fact that the black market has become saturated with the Russian-invented Kalashnikov - colloquially known as "the Clash" - after Sudan plunged into a civil war in April.
Battles between the army and the paramilitary Rapid Support Forces (RSF) rage daily on the streets of Khartoum and the two other cities - Bahri and Omdurman - that make up the greater capital.
Speaking on condition of anonymity, the man - who buys and sells weapons as a full-time business of sorts - said that although some of his suppliers are retired army officers, most are from the ranks of the RSF.
Supply outstripped demand, especially after what locals refer to as the Battle of Bahri, fought in mid-July, around three months into the conflict that has devastated Sudan.
Corpses of soldiers lay strewn on the streets of Bahri, with government forces having suffered heavy losses at the hands of the paramilitaries, who are in control of much of the city - as well as Khartoum and Omdurman.
"Many soldiers got captured and many more were killed, so our suppliers have plenty of arms," said the dealer.
This means that he no longer has to rely on "the Clash" being smuggled in via the Sahara Desert from Libya, which he describes as an "open arms market" - a sign of the extent to which lawlessness and instability has engulfed the North African state since the overthrow and killing of long-serving ruler Muammar Gaddafi in 2011.
In the past the smuggled weapons used to be sold mainly to rebels and militiamen involved in long-running conflicts in Sudan, or neighbouring states like Chad.
But now fighters pick up the weapons of killed or captured enemies from the battlefields of greater Khartoum, and sell them via intermediaries to dealers who, in turn, have found a new group of buyers - some residents of the capital worried about the war, lawlessness and dangers on their doorsteps.
Having learned of dealers though word of mouth, residents call them up to place an order. The dealers deliver the AK-47 rifle to their homes, and give them a quick demonstration of how to use a weapon they had never imagined they would own.
Ammunition is sold separately - by dealers hanging around Omdurman's main market called Souq Omdurman.
A 55-year-old father of six said he bought an AK-47 rifle because of rising crime, and "potential attacks from other people in Khartoum".
"They might just attack you, for whatever reason. It might turn into an ethnic war. You never know. That is our main fear," he added.
Sudan descended into a civil war in mid-April after a fall out between the army chief, Gen Abdel Fattah al-Burhan, and the RSF commander, Mohamed Hamdan Dagalo, better known as Hemedti.
The two staged a coup in October 2021, but then got involved in a power struggle that saw their men take up arms against each other in a war that shows no sign of ending.
The arms dealer said that in far greater demand than AK-47 rifles are pistols, which are easier to use and to carry.
Residents are snapping them up because the collapse of government - including the police force, prison service and judiciary - has led to crime getting out of control.
Hardened criminals are now on the streets, following a mass break-out from Khartoum's biggest prison early in the war.
Crime has also soared because the conflict has forced many businesses to shut, having a knock-on effect on unemployment, while the cost of living has risen because of the scarcity of basic food items.
Though people are struggling financially, a significant number of residents are buying weapons as safety is of paramount importance - especially as homes are being looted and women are being raped.
The arms dealer said he has dropped the price of pistols four-fold, from 800,000 Sudanese pounds ($1,330) to 200,000 Sudanese pounds.
"What used to make them [pistols] expensive was the licence. Now you don't need to get one. You just buy it and use it," the dealer said, adding that he made a good profit because sales were higher than ever before.
While owners of AK-47 rifles keep the weapon at home, pistol-owners carry it with them when they go out - whether it is to the fuel station or market.
The threat posed by criminals is highlighted by the plight of a 24-year-old man who got married just a few years ago, and has a one-year-old child.
As he walked to a market in Omdurman, he was confronted by a gang, which robbed him of his cash and shot him in the spine. With the only functioning hospital in the city unable to treat him, he was taken on a dangerous road journey to a hospital in River Nile State, about 200km (124 miles) away.
The bullet was removed, but the shooting left him paralysed - a painful reminder of a war that has ruined the lives of millions of people.