Drew Findling: Trump's new lawyer once called him 'racist, cruel'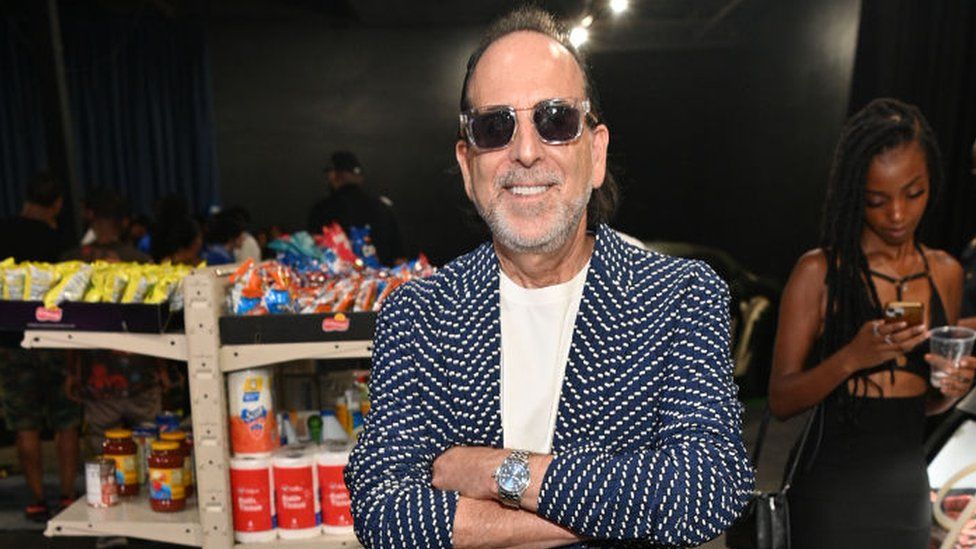 Ex-clients describe him as "the biggest lawyer in the game" and a "Robin Hood with Jesus swag". Now he's defending the most high-profile client of all.
Drew Findling was hired last year to represent Donald Trump in the criminal investigation into election interference in the state of Georgia in the 2020 election.
The veteran lawyer has previously criticised Mr Trump and donated to Fani Willis, the woman now prosecuting him.
He's also a revered figure in Atlanta, or as he calls it "Hip Hop Hollywood".
A self-identified liberal, the 64-year-old has attacked the former president on several occasions.
In 2017, he tweeted that President Trump's firing of the federal prosecutor in Manhattan was "a sign of FEAR that [the prosecutor] would aggressively investigate the stench hovering" over him.
Two months later, he again took issue with the then-president over his stance on the Central Park Five, a group of teenagers wrongfully convicted in the rape of a white jogger in New York's Central Park in 1989.
Mr Trump had forcefully advocated for the death penalty and did not retract his comments after the verdicts were overturned, which Mr Findling said was "racist, cruel, sick, unforgivable, and un-American".
And in 2018, Mr Findling inserted himself into a feud between Mr Trump and basketball star LeBron James, using a social media post to call the former president "pathetic" and "the racist architect of fraudulent Trump University".
Asked why he is now defending the ex-president, Mr Findling likened his decision to John Adams - the second US president who, in his earlier career as a lawyer, had defied anti-British sentiments and defended British soldiers against murder charges arising from the Boston Massacre of 1770.
"I do not believe that we choose our client or clients based on race, ethnicity, sexual orientation, gender, political belief or the substantive issues involved in the crime," he told the New York Times last year.
"We have our personal lives and we have our personal politics, and I don't apologise for my personal politics."
In addition to his anti-Trump past, Mr Findling also donated $1,440 (£1,130) in July 2020 to Democrat Fani Willis's successful bid for the top prosecutor post in Georgia's most populous county.
As Fulton County district attorney, Ms Willis on Monday indicted Mr Trump and 18 associates over their alleged efforts to overturn the 2020 election results in the state, narrowly won by Joe Biden on his way to the White House.
The former president's legal team has indicated it will lean heavily on a free speech defence to contest the charges in this case and a separate election subversion case brought by the federal government.
"When it comes to political speech, you can not only advocate for a position, but you can take action, you can petition, you can ask even your vice-president to pause the vote," attorney John Lauro, who is leading the defence in the government's case, told CNN earlier this month.
"Asking is aspirational. Asking is not action. It's core free speech."
Such a defence may give insight into the hiring of an Atlanta-based trial lawyer with more than three decades of experience.
Beginning his career as a public defender, a taxpayer-paid attorney assigned to low-income clients, Mr Findling and the law firm he founded in 1987 have represented an entire rolodex of high-profile figures.
They include athletes Shaquille O'Neal and Dennis Rodman, comedians Katt Williams and Mike Epps, and stars of the reality show Love & Hip Hop.
But most prominently, he is the go-to lawyer for Atlanta rappers. "If there's a hip hop artist in trouble, I'll get a phone call," he told MIC in a 2018 interview.
When he first defended a rapper, Mr Findling confessed to the Times, he'd "never listened to a rap song".
The case saw his client - Demetrius Flenory, known in rap circles as Big Meech - acquitted of murder in 2003.
Mr Findling has spoken of how that outcome, and other clients since, have opened his eyes to how the racial backgrounds and biographies of some can make them more vulnerable to criminal prosecution.
His name was trumpeted through the streets after he helped negotiate a plea deal on gun charges for hitmaker Gucci Mane, as well as an early release from prison that led to the rapper's career resurgence.
Mr Findling has gone on to counsel several more big names in the mecca of black entertainment, including Cardi B, Waka Flocka Flame and all three members of the rap trio Migos.
In 2017, the late Memphis rapper Young Dolph christened him "the Billion Dollar Lawyer" - a nickname he still touts on his Instagram bio.
Mr Findling's rap-heavy clientele has also made him keenly aware of how free speech in the hip hop world is interpreted - often wrongly - as evidence of criminal conduct or intent.
"Somebody listens to a rap song that lasts for four minutes and 11 seconds, and pulls one verse out, and tries to conjure up some type of criminal case out of it," he told the Times.
Before Ms Willis indicted Mr Trump, her last major probe resulted in charges against Grammy-winning rapper Young Thug and 27 associates at his YSL music label last year.
Each set of defendants in both cases is being prosecuted under the state's racketeering laws, as co-conspirators in a criminal racket.
In addition to defending Mr Trump, Mr Findling also currently represents a YSL defendant - YFN Lucci, real name Rashawn Bennett.
In June, he rejected a plea deal offered to Mr Bennett, accused prosecutors of intentionally delaying the trial and said his team stands "ready and prepared to defend these false allegations".
But the powerhouse lawyer has his work cut out for him with Mr Trump, a notoriously difficult client who often ignores legal advice and will likely seek to postpone the case as long as he can amid his third presidential campaign and other court dates.
And, instead of arguing over the intent of lyrics to a rap song, Mr Findling will have to argue that the actions taken by an American president were simply aspirational.